Meet the Billys — North American Tour: Billy Elliot the Musical
Author's Note:  This article is no longer active or being updated. It has been replaced by a new article to be found here.
The US/CanadianTour of Billy Elliot the Musical (dubbed US National Tour 2) kicked off at the Durham (NC) Performing Arts Center (DPAC) on October 30, 2010. The tour featured stops of a few days to 4 weeks (most stops were one week) in various cities around the United States and Canada. Originally planned to last for a minimum of three years, the tour played 64 cities in the United States and Canada and, after a five week layoff, finished up with a visit to Sao Paulo, Brazil from August 2-18, 2013 (see a link to the full tour itinerary at the end of this article).
A hiatus for the original tour took place from August 22 to Oct. 31, 2011 during which some changes to the script and set were made and several cast changes took place.  The production then re-opened as US/Canadian Tour 2.5 on November 1, 2011 in St. Louis, Missouri.  All told, The Tour performed the show 886 times, with the revised 2.5 version representing 577 of those performances.
As in all productions of this popular musical, a large part of the success of this version of the show was dependent upon the boys in the title role.  Their talent dominated the show, as they were on stage for all but a couple of scenes for the show's two hour and 50 minute duration.
This article contains profiles of the young actors who played the role of Billy on Tour. Click on this icon to see a list of them with their Tour performance dates:

Note: To see captions for the pictures in this article, just move your cursor over the picture.
________________________________________________________________
The Profiles
Note:  The profiles are listed in the order the actor left the Tour
 _______________________
  Michael Dameski
Note: Michael's final North American Tour performance as Billy was in Charlotte, NC on January 29, 2011
Debut: October 16, 2008 (Sydney)
When the then 15-year-old Michael Dameski stepped onto the stage at the Durham Performing Arts Center (DPAC) in his North American Tour debut on Saturday, November 6, 2010, he became the first of all the boys who have played Billy Elliot to perform the role in three different productions of the show. He had already been Billy in Australia where he debuted on October 16, 2008. He then came to America and debuted on Broadway on Sunday January 31, 2010 at the matinee performance. Michael is from Sydney, Australia, where he lives with his mom, dad and two sisters. 
Since 2005, his skills have led to considerable success in dance competitions around the world. In 2005, Michael was named a Top 10 Dance Idol finalist by Australia's National Institute of Dramatic Art (NDIA). In 2006, he received the Under 13 first place in the Music and Performing Arts Junior Challenge, which is a national talent search in Australia. In 2007, he represented Australia in the world championships of Performing Arts in Los Angeles. He received gold, there, in all categories, and was named Junior World Dancer.
Michael has also been recognized for his singing ability. In 2007, he was a guest at the Zlatno Slavejce (Golden Nightingale) children's singing festival in Macedonia, at which he recorded a song written especially for him entitled 'One Dance'. Here's a video of that performance, in which a much longer haired Michael showcases his vocal and dance talent:
Credit: Video by bogdanovski1
Michael's theatrical training has been at Brent Street, Australia's prestigious school for the performing arts, where his studies have included many dance styles including jazz, tap, ballet, acrobatics, hip hop, contemporary drama and musical theatre, as well as academics. After his stint in Billy Elliot the Musical in Australia, Michael returned to Brent Street. In this video, Michael and his fellow students from Brent Street perform a number they called "A Tribute to Billy"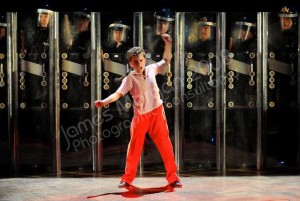 In the late Fall of 2009, the BETM creative team realized that potentially they could be down below the minimum number of boys needed to comfortably maintain the Broadway Billy rotation required to do the show eight times per week. They knew that one of the three originating Broadway Billys, Kiril Kulish, was leaving the show in early October, and that another would soon follow (David Alvarez on Jan. 3, 2010). The decision that Tommy Batchelor would star in the BETM road company production beginning in Chicago meant he would be leaving the Broadway show on December 11th to prepare for his debut in the Windy City. Alex Ko had debuted right after Kiril left, but he went down, after just three performances, with a knee injury that would keep him off the stage for an extended period.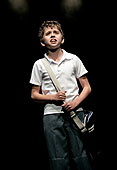 The next Billy in the pipeline, Liam Redhead, was still in training and not quite ready to debut. And still another Billy-in-training, Jacob Clemente, had just started his training and was even further away from being ready.
So the creative team needed to bring in some additional Billys quickly to fill the temporary void. They turned to Australia, where a very successful run of the production had just finished in June of 2009. Luckily there were a couple of very talented boys who had played Billy in that production, Dayton Tavares and Michael Dameski, who were still of the right age, stature and still had unbroken voices. Most importantly, they wouldn't require all that much training as they both had already performed the role for several months.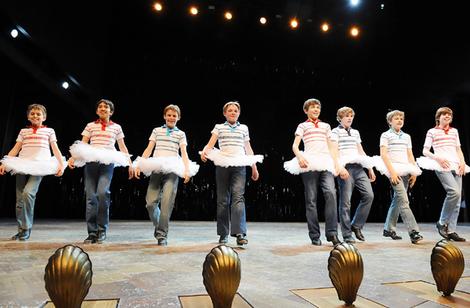 On November 9, 2008, eight of the Billys (all except Corey Snide) who performed in the Sydney production took to the stage during the finale (including Michael Dameski and Dayton Tavares — first two from left)
Dayton came to NYC in early November and debuted on Broadway on December 19th. Like Tavares, Dameski was one of the five final Australian Billys, joining that cast in Sydney on October 16, 2008. His final performance as Billy in Australia was the next to last show there on June 13, 2009, in Melbourne. He had been studying, in the interim, at the Talent Development High School at Fox Studios in Sydney. Ironically, Michael arrived in NYC to begin his rehearsals/training for the Broadway show the same weekend Dayton debuted.
Here's a glimpse of Michael as Billy, performing "Angry Dance" from the Australian show:
Credit: Video by elliotfan1
Popular afternoon host Chris Smith, of Australia's radio station 2GB, did a phone interview with a very articulate Michael in late February. The far ranging interview, during which Michael talks about being Billy on Broadway and his enjoyment of the city of New York, can be heard by clicking on the audio file at the very top of this article, right under the article's title.
On March 27, 2010, Michael did an interview on Australia's Channel 7. He talks about life as Billy and how he perceives his life after Billy:
Credit: Video by Sonicrockz18
On April 28, 2010, Michael performed at the sixth annual Garden of Dreams Foundation Spring Talent Show, at Radio City Music Hall. More than 100 children from 11 of the Foundation's partner organizations including Make-A-Wish Foundation, NYU Medical Center, Hackensack University Medical Center, Children's Aid Society, Children's Village, and WHEDCo staged over 20 special performances over the course of the evening.
Dayton and Michael were initially meant to be temporary performers while several of the boys who were training to become Billy on Broadway got ready to perform the role. But they both got rave reviews and their contracts were renewed. Then, in June 2010, it was announced that Michael would anchor the new 2nd North American tour as the senior Billy. His last performance on Broadway as Billy was Sunday evening, September 5, 2010. All reviews and reports of that evening were that it was an emotional, energy charged performance, during which Michael put on one of, if not THE, best performances in his career as Billy, puncuated in several places throughout the show by standing ovations and wild applause. He then went into rehearsals with the rest of the 2nd Tour cast. Despite his longetivity in the role, between both Australia and New York, Michael had to begin learning working with a slightly different set than he's used to, which necessitates some new blocking and choreography and, of course, a new group of fellow cast members.
Like his friend, Dayton, Michael has made his impact on BETM in America, demonstrating the skills that Aussie fans of the musical raved about during the show's run there. He continued representing his country well for the remainder of his time as Billy, as audiences around the US got the opportunity to enjoy his great talent. He performed the role for the final time in Charlotte, North Carolina at the Blumenthal Performing Arts Center on Saturday evening, January 29, 2011.
Michael then returned to Australia, rejoining his family there. He has said he will continue to be educated in the performing arts, adding to his already great skills. There is no doubt we haven't heard the last of this young man from Oz.
Photo Credit: Catherine Pappas
For more information about Michael Dameski visit:
Wikipedia, Billy Elliot the Forum
___________________________________________________________
Daniel Russell
Note: Daniel's final North American Tour performance as Billy was in San Francisco on August 20, 2011
Debut: April 25, 2009 (Melbourne, Australia)
Daniel Russell (D.O.B. = 28-Apr-1996) was the last of the boys to join the Billy rotation for the Melbourne production of BETM in 2009. He debuted there on Saturday, April 25, 2009 and did his 13th and last show there on June 11, 2009, during the production's final week of performances in Australia. Daniel was the third Aussie to play the role of Billy in American productions of the show.
After his short stay in BETM Australia, Daniel went back to attending Dancin' Mates Performing Arts Dancing School in Umina Beach, just northeast of Sydney. The school, which is owned by Daniel's parents, offers dance classes in Ballet, Hip Hop, Street, Jazz, Tap, Modern, and Lyrical, as well as classes in drama and singing. That Daniel has an entertainer's genes is no surprise as his mom is a dancer, specializing in ballet, while his dad also has a heavy background in dance, but also has a classically trained singing voice and has performed professionally in everything from opera to musical theater.
His journey to be Billy began in 2006. His initial audition was actually via a DVD of himself that he submitted to the BETM casting people in Australia. He was then asked to travel to Sydney to take part in an open audition with many other hopefuls. After that audition, Daniel and another boy were pulled aside by the casting director and told they had much promise but were a bit too young to play Billy. They were told to get more experience and to apply again.
Daniel heeded that advice and tried out for other shows, landing the lead in Oliver! He would go on to do about 10 additional auditions in the next two years, during which he saw some of the boys he had attended auditions with be selected to be in BETM. And then he was asked to travel to Melbourne for what he labels a "checkup audition", after which he was offered the role of Billy in the Melbourne production of the show. As was mentioned above, he only got to perform the role 13 times in Australia before the show closed there.
But Daniel and his talent wouldn't be forgotten. Daniel, along with two other Australian Billys (Dayton Tavares and Michael Dameski), were offered roles in the American versions of BETM, when the producers here decided to take advantage of their talent and training.
Daniel traveled to NYC with his mom in early August, 2010 to begin rehearsing and training to reprise his role of Billy on the US National Tour. When the full cast met for the first time to begin rehearsals on September 7th, Daniel was pictured with three of his fellow Billys (Giuseppe Bausilio was still in Chicago performing with that cast) and Faith Prince, who would play Mrs. Wilkinson in the show.
On October 6, 2010, along with the rest of the cast, Daniel moved from NYC to Durham to continue preparations for the opening of the Tour there. In an interview with the Durham Herald-Sun, when asked what it took to be a Billy, Daniel replied with one word "Training". He said that while all the preparation is enjoyable and necessary, but then, remembering what it was like when he played Billy in Australia, he added "I love rehearsals, but I love getting on stage with a full house and to get all that applause at the end".
On November 3, 2010, Daniel and Griffin Birney (who played Michael in the show) made the rounds of the various radio and TV stations in the area to promote the show. The picture at the left shows him in one of those radio studios that day.
Daniel's American debut took place at DPAC in Durham, North Carolina, on the last day of that tour stop – November 14, 2010 at the 1:00pm matinee.
When the original Tour closed in August of 2011 in San Francisco, Daniel returned to his native Australia where he continues his studies including dance. Like his two fellow Australian Billy colleagues before him, Daniel has left his mark on musical theatre in America.
For more information about Daniel Russell visit:
___________________________________________________
Ethan Fuller
Note: Ethan's final North American Tour performance as Billy was in San Francisco on August 21, 2011
Debut: June 10, 2011 (Dallas, TX)
Ethan Fuller (D.O.B.= 18-Apr-1998) hails from Indialantic (near Melbourne) Florida. When he debuted on June 10, 2011, he became the sixth boy to play the role of Billy Elliot in the North American Tour production of the show and the 58th actor to portray the title character in the musical since the first production in London began in 2005.
Ethan began his dance training at the Brevard Dance Academy before moving to the New Dimensions Dance Company in Orlando in order to study with Peter Stark. He eventually went on to Tampa when Stark became the chairman of the dance program at the Patel Conservatory at the David A. Straz Jr. Center for the Performing Arts there.
During his dance training, Ethan has won numerous regional and national competitions and titles from Showbiz Talent to Youth American Grand Prix (YAGP).
In an interview with hometown newspaper, The Tampa Tribune, Stark said of Ethan's selection for the role of Billy, "This fantastic for Ethan; I couldn't be happier for him." He went on to say, "Ethan is completely dedicated and he is so mature. When I teach these kids I treat them like I treat my professional colleagues and then I see them outside waiting for their parents and I realize that they are 11 and 12 year old kids. But Ethan is like a professional and is open to criticism and works hard."
Ethan is home schooled by his mom, Camille, who is also his transportation all over the state whenever he competes in various dance events. She said that the audition process took months with numerous call backs. That is typical of most of the boys who play Billy. Stark adds that the audition process is not just about knowing how to do the dance steps. "You have to have that intangible spark that casting directors are looking for," he says.
During February, 2011, while the National Tour cast played the Straz Performing Arts Center in Tampa, the show took the opportunity to make the announcement about Ethan's selection as a future Billy with the traveling production. He got to meet the cast then and began living and travelling with them as he prepared for his debut. That day finally came on June 10, 2011 in Dallas, Texas. He has completed 18 performances as Billy when the Tour went on hiatus in August in after closing in San Francisco.
After seeing the show in Tampa and meeting the Tour cast, it was off to NYC for several weeks of intensive training and rehearsals for Ethan. There he worked with the BETM creative team on Broadway. But one bit of training he'd already gotten down even before he left for the Big Apple. He learned the all important "Billy Jump" while there:
After his training with the creative team on Broadway, Ethan left New York to join the tour and has been traveling with that production for the last several stops. He's worked with the full-time Billys there and with the production creative team to ready himself for his debut, which took place in Dallas.
His final performance as Billy came sooner than even he thought. At the next to the last show in San Francisco, Ethan performed the role for the 18th and final time just before the Tour went on hiatus.
To learn more about Ethan Fuller, visit:
____________________________________________________________
Lex Ishimoto
Note: Lex's final North American Tour performance as Billy was in Cincinnati on January 29, 2012
Debut: October 30, 2010 (Durham, NC)
Lex Ishimoto was 13 years old when he performed his last show as Billy.  He's from Irvine, California. In his relatively short life so far, he has performed in many nationally ranked dance competitions, both solo and as part of his street dance hip-hop group Kreative Movement. His specialties are hip-hop, tap, jazz, ballet, lyrical and contemporary dance and has studied at the West Coast School of the Arts in Costa Mesa.
After initially auditioning for Billy Elliot in California, Lex was asked to come to New York, along with nine other boys, where he spent five days in intense auditions in dance, vocals, gymnastics and acting.
Credit: Photo by Randy L. Rasmussen
In June 2010, Lex learned that he would be one of six boys chosen from that group to play Billy in one of the North American productions of the show.  Later it was announced that he'd specifically be assigned to the new North American Tour cast.
Credit: Photo by Doug Blemker
In an October interview with the five Tour Billys by the Durham Herald-Sun, the boys agreed that it's like family working with the other Billys and the rest of the cast. Lex said, "They're really nice — crazy in a good way".
On October 30, 2010, Lex became the second Billy to debut on the DPAC stage and then alternated with Giuseppe for the first performances of the show in Durham.
Credit: Photo by Michael Brosilow
Lex performed as Billy 97.5 times before doing his last show on January 29, 2012 in Cincinnati.
Credit: Photo by Michael Brosilow
For more information about Lex Ishimoto, visit:
_____________________________________________________________
JP Viernes
Note: JP's final performance as Billy was in Los Angeles on May 13, 2012
Debut: March 20, 2010 (Chicago)
The venues played by the North American Tour company of BETM were graced by the considerable dancing talents of John Peter Viernes (D.O.B. = 30-May-1996), who hails from Half Moon Bay, near San Francisco, CA.  He's universally known to friends and family as "JP".
JP's dance skills have been developed and honed by the Shely Pack Dancers, a school he has attended since the age of seven. The school is affliated with the highly regarded Dance Masters of America program. School owner Shely Pack-Manning, in an interview with JP's hometown newspaper – the Half Moon Bay Review, says that right from the start "I could see he had a wonderful sense of rhythm. In the past two years I've seen him develop into a strong dancer, a very flexible dancer. But one of his main assets is he can connect with his music."
As has been the case with many of the boys who have portrayed Billy, dancing runs in his family.  His older sister, Lexi, also attended the Shely Pack Dancers program and has won several competitions.  At the end of JP's time as Billy, Lexi joined the touring cast as a Ballet Girl.
At the age of nine, JP won the title of Master Dance of California, a state-wide competition for boys aged 9 and 10. In July of 2008, JP danced in the national Dance Masters of America competition in Orlando, FL, winning the title of Jr. Mr. Dance of America (for boys aged 10-12).  His winning performance, choreographed by Pack-Manning,  was danced to the Elvis Presley ballad "In the Ghetto".  Viernes characterizes the music for his performance as "…really sad, but it has a lot of emotional content." He said he "described"  the music through movement that included big jumps and snappy turns. "It felt like I was telling the story to the audience, but with my body instead of my words."  After holding his title for a year, during which he danced at Dance Masters events in North Carolina and Pennsylvania, JP surrendered it in July of 2009 in Washington D.C, at a very special  Dance Masters annual convention at which the organization celebrated its 125 years of existence.
JP' s road to playing Billy was very long and not without a few bumps.  In March of 2007,  he first auditioned for Billy Elliot the Musical in San Francisco.  In May of that year, he was asked to attend a second audition in Los Angeles.  After that, over a year went by with no word and JP and his family naturally thought he hadn't gotten the part.  But then, in October of 2008, he received a call offering to bring him to New York for another audition, which was again followed by a period of silence from the BETM creative team. Still another callback occurred in April, 2009.  By now, over two years had passed since JP initially auditioned to be Billy. But it then became clear to the family that JP was under serious consideration for the role when he was asked to attend the "Billy Camp" during which boys under consideration for the role learn the various dance routines so it can be seen how they'd look in the show.
Finally, in August of 2009, JP was offered the role of Billy in the Chicago production.  Like the other Billys, his contract also calls for him to understudy the roles of Tall Boy/Posh Boy.  Beginning in November of 2009, JP, along with other Billys-to-be for the Chicago and New York productions, began an intensive five weeks of rehearsals in New York. After a short break for the holidays, it was then on to Chicago to there resume rehearsals for the show.
Before his debut in the previews of the show, JP and the other Billys were putting in 12 hour days, six days a week in rehearsal — an exhausting process, but one very necessary to getting the boys ready for doing the two hour and 50 minute show. With school work added in, it really didn't leave much time for anything else.
Photo Credit: Amy Boyle
JP debuted in his first preview in Chicago on March 20, 2010.  At that time, the feedback from those in attendance was very positive.  When asked how his first show went, he was elated. He said, "Good!!! It was really fun!"  After the Chicago show's official opening night on April 11th, JP performed officially as Billy for the first time at Thursday evening show on April 15, 2010.
JP portrayed Billy for the 71.5st and last time in Chicago on the production's final day in the Windy City, November 28, 2010.  After that he got some time off, spending the Christmas holidays at home in Half Moon Bay.
Right after the calendar turned to 2011, JP headed to Toronto with many of the Chicago cast to meet some new cast members from Canada and prepare to open there in February. His Canadian debut occurred on February 2, 2011, the show's second preview there.
Shortly after marking his 100th performance as Billy in early May, it was learned that JP would be transferring to the Tour production of the show enabling him to perform in front of his hometown audience when the Tour settled in for an extended period (June-Sept) in San Francisco.  JP performed as Billy for the 37th and final time in Toronto on Sunday, June 5, 2011.  And, thus, the last of the original Billys from the Chicago (and now Toronto) cast of the show has moved on.  At that point, he had logged a total (Chicago and Toronto combined) of 108.5 performances in the role.  Later that week, he flew to Dallas to join his new cast mates with the North Americanl Tour.
JP debuted with the Tour cast on Friday evening, June 17, 2011 in Dallas, Texas, becoming the 7th boy to portray Billy on the Tour.
It's very obvious to those who know him that he's thoroughly enjoying his experience of playing Billy in the popular musical. When asked, even before his debut in Chicago, how long he plans on playing Billy, JP said, "I'll be in it as long as my voice doesn't change, or I don't grow."
On May 13, 2012, over two year's from his debut in the role, JP's Billy journey finally came to an end where it began — in his home state of California.  He had finally "grown up". That evening, JP played Billy for the 174th time, in the final show of the Tour stop in Los Angeles.  At his retirement, he was the senior Billy in the world, in terms of age, time in the role and the number of performances as Billy.  To those who know him, he WAS Billy Elliot.
JP's Final Curtain Call
Credit: Photo by Michael Zorek
For more information about JP Viernes visit:
JP Viernes FaceBook Fan Site, Billy Elliot the Forum

___________________________________________________
Zach Manske
 Note: Zach's final performance as Billy was in St. Paul, Minnesota on October 14, 2012
Debut: January 15, 2012 (Washington, DC)
Zach Manske, who was 13-years-old (D.O.B. 10-Mar-1999) when he did his last show as Billy, is from Woodbury, MN.
Zach began dancing at the age of eight and quickly learned that dance was his passion. He has taken dance instruction for the past five years at the Woodbury Dance Center. His time at that school has included him dancing competitively for which he has received numerous top scores and judges' choice awards including the Minnesota State Fair Talent Competition,  the junior national champion titles at the Starquest (2010) and at the Masquerade (2011) national dance competitions.
Zach Dances in Competition in 2011
Credit: Video by a465068
Zach auditioned for the role of Billy the week after seeing the show on Broadway in October of 2011.    About the audition Zach says, " Since I saw the show, I thought it would be cool to audition. It was my first big audition."   The audition process pitted him against 13 other boys. "I was nervous and excited," he said. "It was exciting just to be out there."  And when he found out he had gotten the role, he was beside himself with joy.  "My mouth dropped and my mom started crying," he said.
Zach briefly joined the BETM Tour company in New York City where it had been rehearsing during the hiatus and, when the company went on the road,   traveled with them.  He trained and rehearsed since then, both with the other the Billys and separately,  in preparation for his debut in January in Washington, DC.  That has consisted of an average of 6-10 hours per day, plus he is academically tutored, along with the other young cast members, an average of two hours a day by the private tutors who travel with the show.
Though he knew ballet, other skills he's had to learn.  He says acting has perhaps been his biggest challenge as it's his first exposure to it.  He said he really enjoys being able to share the role of Billy Elliot with four other dancers because it allows each of them to bring something different to the character.  "It's very cool how each of the boys' characters is different in a way," he said. "We each bring a different character to the show."
As far as what it's like being on the road, Zach said the hardest part was been being away from friends and family.  "The cast is just like a family, but it's still hard to be away from family and friends," he said.
As the Washington, DC tour stop began, Zach he said it would be worth all the sacrifices and hard work when he debuts later in the tour's visit there. "It's been an amazing process so far," he said. "But, I'm getting excited about being on stage."
That chance to "be on stage" finally arrived at the 1:30 pm show on the final day of the Washington, DC tour stop.  With his debut on that Sunday, 15-Jan-2012, Zach became the 62nd boy in the world to portray Billy in Billy Elliot the Musical.
Fifty-two shows later, Zach finished his Billy career on the stage of St. Paul's Ordway Performing Arts Center in his home state of Minnesota, on Sunday evening, October 14, 2012.
For more information about Zach Manske, visit:
*Note: some quotes and information for this profile are taken from an article in Zach's hometown newspaper, the Woodbury Bulletin.
_______________________________________________________________
Kylend Hetherington
 Note: Kylend's's final performance as Billy was in Austin, Texas on December 14, 2012
Debut: December 10, 2010 (Cleveland, OH)
Born on September 6, 1997,  Kylend Hetherington's hometown is Auburn, Michigan.
His early dance training took place at Miss Lore's School of Performing Arts in Essexville, MI, beginning at the age of four, and he joined the competition team there at age six.  Kylend has participated in several dance competitions, beginning in 2003, winning several awards including Jr. Mr. Showbiz at a national competition in Chicago in 2008 and has won the Kids Artistic Revue title "National Mister Petite Dance" twice.  When he was eight-years-old, Kylend also performed at the Dow Event Center in Saginaw, MI in the Moscow Ballet Great Russian's presentation of the Nutcracker, on December 1st, 2005.
At age nine, Kylend began taking ballet instruction parttime at the Northeast Academy of Dance (NEAD), which is located in Oscoda, Michigan. Two years later, at 11, he began taking lessons there full-time.  His instructor at NEAD was Giuseppe Canale, who is co-founder of the school.  Also during this period, Kylend began taking tap dancing lessons and credits his teacher, Bruce Bradley, with giving him a good foundation in that dance genre.
Kylend initially auditioned for BETM in Detroit in 2008.  Like many of the other Billys, after that first audition, the process was wait to hear and then get another callback.  Kylend  was asked to come to New York four times before he was finally offered a role in the Broadway show in October of 2009.
Kylend initially signed a contract for the role of Tall Boy/Posh Boy (and u/s for Michael) on Broadway.  After several weeks of rehearsal, he made his debut at the Imperial Theatre on November 17, 2009.  He would play that role for almost eight months.
Meanwhile, Kylend worked very hard to master the role of Michael and was finally able to debut in that role on April 10, 2010.  He occasionally filled in for one of the regular Michaels until his final performance in the role on July 7, 2010.
It wasn't planned that way, but it would also be his last performance in BETM on Broadway as he broke a toe in a Billy acro practice a day later.  Kylend returned to the Imperial Theatre on Friday, July 9 to say goodbye to his friends in the Broadway cast and crew.  In her popular blog on the official BETM website, Kate Henning (Mrs. Wilkinson), described that night like this: "When the curtain drops after the finale this night we sing a special 'Happy Trails' to our broken Tall Boy, with many tears and many cheers of love and encouragement for his recovery. His poor mother stands helplessly in the wings, weeping. "
But as much as it hurt to finish his first stay on Broadway in that fashion, Kylend was buoyed by the knowledge that this wasn't to be the end of his involvement with Billy Elliot the Musical. This is, after all, a profile of the boys who play Billy in the show.  And, indeed, Kylend, all during the time he was playing Tall Boy and Michael on Broadway, he was also regularly joining in all the training the Broadway Billys regularly received, learning to play the lead role.
In June, 2010 it had been announced that Kylend would be among the six new Billys in one of the three North American productions of the show. Later, it was learned he would join his fellow Broadway cast member Michael Dameski, Chicago Billy Giuseppe Bausilio and another of those six new Billys, Lex Ishimoto, in the Billy rotation for the new North AmericanTour.  In July came the news that the rotation for the new tour would actually number five Billys, when another experienced Aussie Billy, Daniel Russell, joined the mix.
In late July, having recovered from his injury, Kylend joined Lex in continuing the intense training necessary to become Billy. Ballet class is a heavy part of the training curriculum and Finis Jhung, who is responsible for the pre-debut ballet training for new Billys in North America, began working with Kylend, Lex and Daniel in three a week sessions that would continue until October 6.
Kylend travelled with the rest of the cast to Durham in early October to continue rehearsals at the theater where the show would open at the end of that month.  But he wouldn't make his debut as Billy until Friday evening, December 10, 2010 in Cleveland, the Tour's second stop.  That night the audience included family and friends who have supported him throughout his young career in dance and theater.  Among that support group are people like his ballet mentor, Giuseppe Canale, back at NEAD in Michigan who, when asked how he remembers Kylend as a student said:  "It was clear from the beginning that Kylend had a special kind of talent and was destined for a career in dance.  He is a hard working, attentive, down-to-earth student, with a wickedly funny sense of humor.  I look forward to watching his progress as he matures into a young man."
And progress he did.  Kylend celebrated his 15th birthday in September and his third year in BETM on November 17 of 2012.  Three years is a long time for a child actor to be in any one show — a long time from that first night treading the boards on Broadway as Tall Boy/Posh Boy. At his request, BETM tour management consented to allow Kylend to play the role of Michael one last time at the matinee in Fayetteville, Arkansas on Saturday, December 8, 2012.  Kylend's last BETM appearance as Billy took place on Friday evening, December 14, 2012 in Austin, Texas.  It was his 151.5th  time playing the dream role he worked so hard to get and in which he excelled for so long.  Happy Trails, Kylend.
Kylend Dances with Max Baud (Older Billy) in Dream Ballet
Credit: Photo by Kyle Froman
For more information about Kylend Hetherington, visit these sites:
Billy Elliot the Forum, Kylend's Facebook Fan Page
___________________________________________________
Ben Cook
Note: Ben's final performance as Billy was in Las Vegas, NV on May 19, 2013
Debut: December 10, 2010 (Cleveland, OH)
At the matinee performance on Saturday, June 30, 2012 in Louisville, Kentucky, Ben Cook became the 65th boy in the world (and the 10th for the North American Tour of the show) to play the title role in Billy Elliot the Musical (BETM). By the time he left the role almost a year later, he was the senior Billy among the four boys who rotated in the role.
Ben's quest to be Billy was an abnormally long one, even for a show that has been known to require many audition call backs of its prospective Billys.  But the 15-year-old, who lives with his parents and two of his three siblings in Lorton, Virginia, has persevered.  According to his dad, Glenn, who writes a great blog called Stage Dad, the process actually began in 2007 when Ben first auditioned for the show in Maryland. This was even before the show opened on Broadway.  After two years of callbacks, he was finally offered the role of Tall Boy/Michael understudy on Broadway.  And he was, in fact, the last full-time actor in that role on Broadway before the show closed there.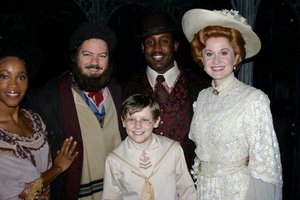 By then, Ben had amassed quite an impressive resume of amateur and professional credentials. Ben had gotten his early performance training at the Metropolitan Fine Arts Center.  From that base, he auditioned for many roles in shows.
At the age of 9, he made his professional debut, playing Tiny Tim in a Ford'sTheater production of A Christmas Carol.  Other roles included the FolgerTheatre's Macbeth and the Kennedy Center's production of Ragtime. The latter show moved to Broadway, where he appeared in the Tony-nominated production again in 2009.  Washington, DC area audiences have also seen Ben in the Ford's production of Heavens Are Hung In Black, and in the Kennedy Center production of Terrance McNally's Golden Age, part of last season's Nights at the Opera trilogy. He also appeared in an episode of NBC's sitcom 30 Rock.
But Ben had never given up on his dream of playing the title role of Billy Elliot.  In the Fall of 2011, while he was still playing Tall Boy/Michael u/s on Broadway, the BETM creative people offered Ben the role of Michael on the North American tour of the show.  Along with that offer was the promise that he would also be trained to play the title role of Billy on the tour.
In January, 2012, while the tour was playing Cincinnati, Ben, along with tour Billy J.P. Viernes, did an interview with Brian Douglas:
Shortly after the above interview and after just under three months of alternating the role of Michael with Jacob Zelonky, Ben suffered a slight strain to his Achilles Tendon, which sidelined him from playing Michael in the show.  After some recuperation time at home in Virginia, he began full-time training for the role of Billy.  His training included stints with the tour as it traveled around the country and five weeks of very intensive training in NYC.
While in NYC, Ben performed at the popular Times Square MetroJam at Don't Tell Mama, hosted by Jenna Esposito.  In this video clip, Ben covers Bruno Mars song Grenade:
Ben Cook Sings Grenade
Credit: Video by LostinRubyland
Ben's quest to "Be Billy" finally successfully ended over five years after it began, with his debut on the stage of the Kentucky Performing Arts Center in Louisville on June 30, 2012.  After that, people around the country got to experience the terrific talents of this BETM veteran until his final show as Billy in Las Vegas on May 19, 2013. That show was his 71.5th as Billy.
For More Information on Ben Cook, visit:
Billy Elliot the Forum, Stage Dad blog
_________________________________
Noah Parets
Note: Noah's final performance as Billy was in Hartford, CT on June 23, 2013
Debut: July 1, 2012 (Louisville, KY)
Noah Parets (D.O.B 3-May-1999) hails from Sharon, Massachusetts, where he lives with his mom and dad (Robyn and Joel) and older brother Ethan. With his debut in Louisville, Kentucky on Sunday, July 1, 2012, he became the 11th boy to play Billy in the North American tour cast and the 66th in the world to play the role.
On 19-Sep-2011, Noah had his first audition for the role of Billy in New York City.  Like many of the boys who have played Billy in the US, that was followed by a period where nothing happened — silence from the BETM creative team.  Then in January of 2012, Noah was asked to attend a call-back audition — a second look — and it was then that he and his family began to realize that he was on a short list of boys under serious consideration for the role.  He soon after found out that he would, indeed, be Billy on the North American tour.
For several months, Noah prepared for the dream role of his young life.  During his preparations, he spent time travelling with the tour, becoming familiar with the production's rhythms and with its cast and crew, while also working on his dancing and stamina with the current Billys.  His training was intensified in May and June of 2012 when he spent five weeks in New York City working with creative staff there who have a long association with BETM.
Prior to his involvement with BETM, Noah got his dance training beginning at the age of seven at Heidi Miller's School of Dance in Walpole, Massachusetts.  Originally, he enrolled in tap and jazz classes, but his teacher there encouraged him to also take ballet.  He wasn't thrilled about the ballet at first, but came to fall in love with it as time went on.  Later he moved on to classes at The Gold School in Brockton, MA. While there, he garnered several accolades for his dancing, including being named the 2011 Junior Male Dancer of the Year.  Here's his winning performance:
Credit: Video by TheGOLDSchool
Parents of the boys who become Billy in the show play a major role in their success. Beyond the nurturing and support of any parent for their children while they're growing up, for
children who dance or do theatre, parents support the child by taking them back and forth to dance/performing arts classes, rehearsals and shows. But once they become part of the North American productions of the show (Broadway, Chicago, Toronto and the US/CA Tour) a guardian, most often a parent, must live with the Billy at the location of the show or, in the case of the tour, must travel with him.  In Noah's case, that task fell to his mom, Robyn, who decided to document the journey with a blog called Away From OM: Tales from the Road. While perusing that blog, one may note that there's a section called "Noah's Posts".  It is very common for the boys who play Billy to have a variety of talents besides dancing and performing.  For example, many play instruments (the piano being the most popular).  One of Noah's other talents is obviously writing, as can be seen by reading his post on that site called "Choices".
After debuting as Billy, Noah was expected to do his share, along with the rest of the cast, of promoting the show as it traveled from city to city.  When the production reached his "stomping grounds" in Boston, Noah and Rich Hebert (who plays "Dad" in the show) were asked to sing the National Anthem before 37,000 people at a Red Sox game played at the famed Fenway Park on August 8, 2012.  Not a bad gig for two Massachusetts boys.
As Noah prepared to leave his "normal" life and begin his Billy journey, he spent part of his last day of 7th grade at his school, the Sharon Middle School,  doing what he loves best — dancing.   Noah performed an improv contemporary dance number in the school's talent show just a few days before leaving the school for his Billy journey. 
It was fitting that, as the only Tour Billy from New England, Noah would perform as Billy for the 93rd and final time on Sunday, June 23, 2013 in New England — Hartford, CT, at the Bushnell Center for the Performing Arts — the last stop in North America for the tour.
To learn more about Noah Parets, visit:
Billy Elliot the Forum,  Noah's Facebook Fan Page, Noah's Website
____________________________________________
Ty Forhan

Note: Ty's final performance as Billy was in Sao Paulo, Brazil on August 17, 2013
Debut: May 22, 2011 (Toronto)
Ty is from Newmarket, Ontario, Canada. He made his Billy debut at the Canon Theatre in Toronto on Sunday, May 22, 2011 at the 1:30pm matinee.
Active in local theatre since the age of five, some of the roles he has played include the lead in Oliver!, JoJo in Seussical the Musical, and the Scarecrow in The Wizard of Oz.  He also appeared in the revue Musical Mayhem. He has competed in dance and done a variety of vocal appearances.
Ty's performance training has included dance classes at Elite Danceworx in Markham, Ontario, under the guidance of Dawn Rappitt; vocal training with Irene Ilic of Newmarket; and piano with Eugene Burda.
Ty first auditioned for BETM in the Spring of 2010 after being prompted to do so by both his vocal and dance instructors. In an interview with yorkregion.com, Irene Ilic said, "Ty has tremendous energy on stage and he is riveting to watch. His dancing is a wonderful combination of athleticism and grace, which I thought would be perfect for the role."
After that initial audition, he was flown to NYC for a second audition over a three day period. Says Ty, "I was excited when they called me back for a second audition. I was a bit nervous at the beginning of the audition but, as it went on, it felt just like dance class."
After a time, he finally got the call he'd been waiting for — he'd been selected to play the role. "It was pretty amazing when we got the final call telling me I made it, I was now a Billy," he said. "I was totally shocked. I sat with my mouth open and was lost for words."
After that, his life changed as he left his regular school and his performance classes and began to train for the role of Billy in Toronto.  That meant a just under one hour commute each way twice a day.  On a typical day, he'd leave home each morning at about 7:30 and return home about that same time each evening.  It made for some long days. But he says he loved every minute of the experience, including learning the dance choreography, dialect, acting script, working on a large stage and getting to know his family away from home — the other members of the 50 BETM member cast.
When asked if he thought he'd be nervous when he finally made his debut, Ty, thinking back to other shows he's been in, says "When I get on stage, I find I don't even see the people in the audience.  I kind of just go into my own little world."
But he knows this isn't just any other show.  This is the show that has been labelled the equivalent for boys of what the show Annie is for girls — except many times more demanding.  He knew he'd be expected to carry this show for almost three hours.  But he wasn't daunted.  This young Canadian lad couldn't wait to show the world he has what it takes to succeed, that everything he's done in his short life to prepare to be Billy would now pay off.  "It feels like I'm living my dream," Ty said.
When he played his final show in Toronto on September 1, 2011, he had performed as Billy 31 times.  He was then asked to transfer to the North American Tour production and, with the rest of the cast as the Tour production went on hiatus for some re-working, went to NYC to rehearse before the Tour went back on the road.
When the show re-opened after the hiatus, on November 1, 2011 in St. Louis, Ty was first up in the Billy rotation, performing in the preview that night, as he did five of the first 12 shows there.
In April of 2012, while the show was in Los Angeles, Ty and cast mate Cameron Clifford (who plays Michael in the show) were interviewed on LA TV station KCBS:
Credit: Video by PantagesTheatre
Ty ended up playing the role of Billy 58.5 times on the tour in his first stint with the production (leaving the show after his performance of July 15, 2012) on the tour's stop in Madison, WI.  He had played Billy a total of 89.5 times between Toronto and the North American Tour productions.  He was asked to rejoin the tour for the Sao Paulo, Brazil visit to fill the void in the Billy rotation left by Noah Parets departure. His final show on August 18, 2013 was the last of five times he performed the role in Brazil and brought his career performance total to 94.5 as Billy.
Credit: Photo by Kyle Forman
To learn more about Ty Forhan, visit:
Billy Elliot the Forum, Ty's Facebook Fan Page
_____________________________________________
Drew Minard
Note: Drew's final performance as Billy was in Sao Paulo, Brazil on August 18, 2013
Debut: December 15, 2012 (Austin, TX)
Hailing from Clive, IA (a suburb of Des Moines),  Drew Minard (D.O.B. 20-Jul-2000) was the 12th boy to play the role of Billy on the North American tour and the 68th actor in the world to play Billy on stage in BETM (see details here).
Like all the Billys, Drew comes from a dance background having begun at the age of three.  Early in his training, he studied at the Iowa Ballet Academy in Urbandale, IA.  For the past year, he has been coached by Ballet Des Moines artistic director Serkan Usta at the School of Classical Ballet and Dance in West Des Moines.
And like many other young dancers, Drew participated in many dance competitions and has won his share of awards along the way. He has won titles  in various Youth America Grand Prix (YAGP) competitions and, in the spring of 2012, Drew competed as an 11-year-old in New York against dancers from more than 55 countries and was recognized as the best in his age division.  He has also won the prestigious Hope Award at the YAPG.  Says Usta ""I knew Drew would win something because he is a very talented and natural entertainer, but to win the Hope Award is an amazing achievement. We are all just delighted. Our community should be very proud of how well this young man represented his city."
Drew is also a young man with a social conscience.  After seeing the documentary film Bully, and having been bullied himself, Drew decided that the problem of bullying required kids to not just stand on the sidelines, but to take action. "There is no such thing as an innocent bystander," he said, as he launched a student-led bullying prevention initiative at West Des Moines' Crossroads Park Elementary School, which he was attending at the time. "I think the whole world needs to watch this (film), so they can see how bad it can really get." Here's a short video he put together to illustrate the problem to his peers:
Former Broadway Billy Alex Ko and Drew are both natives of Iowa and, after Drew competed for and won a dance scholarship sponsored by the scholarship fund created in memory of Alex's dad (see Aspire Scholarship Program), Alex's mom Tammie suggested to Billy children's casting director Nora Brennan that Drew be invited to try out for the role of Billy.  He was 10 when he traveled to New York City for that first BETM audition.  At the tryout, though Drew danced and sang well, he was too short at just 4 feet 6 inches and was told to wait a while and try again. Two auditions were to follow and he grew another 4″ by that third audition.  As the saying goes, "the third time is a charm", and Drew was offered the role in the touring production of the show.
In October of 2012, Drew and his mom were off again to NYC, this time to begin several intensive weeks of training to prepare him to debut as Billy.  There he trained with fellow new Billy Mitchell Tobin.  The training consisted of acting, singing, dialect and dance as well as work with a cardio specialist who helps the Billys to build up the stamina they need to be able to perform for the nearly three hour duration of the show.  After the core training in NYC, the boys joined the tour at the stop in Omaha, NE (Nov. 27-Dec. 2) to continue the training with the in-house resident director and cast before debuting in Austin, Texas (week of Dec. 11-16).
Earlier in 2012, Drew danced in a VIP Dance competition and finished first in his age group at the Des Moines regionals.  Here's a video of him practicing what turned out to be his winning performance called "Fever":
 Many of the principal cast members rotated the publicizing of the show by visiting with media outlets in each new city where it plays and, in March of 2013, Drew and Cullen Titmus (who played his older brother Tony in the show) stopped in to do an interview with Global TV in Edmonton, Alberta: 
Credit: Video by Global TVDrew's Billy journey came to an end on the final day of the Tour's existence in Sao Paulo, Brazil.  He performed the role for his final time (66 altogether) at the matinee performance on 18-Aug-2013.7
Credit:  Photo by Amy BoyleTo learn more about Drew, visit:The Billy Elliot Forum
_______________________________________________
Mitchell Tobin
Note: Mitchell's final performance as Billy was in Sao Paulo, Brazil on August 18, 2013
Debut: December 16, 2012 (Austin, TX)
The state of Florida has produced its third Billy Elliot (the others being Tommy Batchelor and Ethan Fuller). Mitchell Tobin (D.O.B. 7-Apr-2000), from Boca Raton debuted on Sunday, December 16, 2012 in Austin, Texas. He was the lucky 13th boy to play Billy on tour and the 69th in the world to do so.
At the age of three, Mitchell was first exposed to dance when he accompanied his mom to take his older sister to her dance classes. He thought it looked like fun and enrolled in his own classes and by the age of four he had begun participating in dance competitions. A year later, he was dancing solos.
At the age of nine, Mitchell saw the Broadway production of BETM and it was love at first sight.  He says, "I was speechless.  I knew I had to get this role.  It was my dream to do it".  So he attended an open call to audition for the show in Orlando.  It was there that BETM children's Casting Director Nora Brennan first saw him.  While at that age he was too small for the role, Mitchell's mom, Valerie, relates "She (Brennan) saw something in him and would call me every year and would have me bring him back for a follow-up."  When he was finally big enough to fit the part, the auditioning began in earnest. It took a total of four auditions, but Mitchell finally was cast as a Billy for the North American tour.
The tour director, Steven Minning, was based in New York and had responsibly for the training of new cast. He explained that each boy who was chosen to Be Billy was encouraged to bring his own personality to the role. Says Minning, "We cast Mitchell because he's Mitchell. He has an impish quality; he's very smart, he's always thinking ahead. And there was just something quite charismatic about Mitchell. His zest for life really jumps out. That's who his Billy is".
So having achieved his goal of Being Billy, Mitchell began the intensive training to learn the role. He and his mom went to New York in October of 2012 for that training. "We had about five weeks to learn the part," Mitchell explained. "It was very stressful because we had to learn the role in such a fast period of time, but it was fun at the same time."  His days during that training period averaged 12 hours — six days per week. Included was dance (tap, ballet, modern dance and hip-hop), acrobatics, singing, acting and three hours of academic tutoring each day.
Having completed his NYC training, in November 2012, Mitchell traveled to Omaha, Nebraska to finalize his training while working with the tour cast and creative team. This culminated in technical rehearsals and then the final step the week before his debut — his "put-in" rehearsal — where he basically did the show with full cast and music – just without an audience.
When he wasn't away from home preparing to be Billy and traveling around North America with the Tour, Mitchell attends the Bak Middle School of the Arts in West Palm Beach, Florida. If that school sounds familiar, it may be because you recognize it as the school a former Billy (on Broadway and in Chicago) attended — Tommy Batchelor. In addition, Mitch has received instruction in dance and acrobatics from Performance Edge 2 in Ft. Lauderdale, FL and has competed for that studio in many dance competitions, winning several awards; among them was Junior Mr. Showbiz in 2011 in the Showbiz National Talent competition.
To give Skykid readers an idea of Mitchell's dance abilities, here's some video footage of him dancing in 2012. The first is in a contemporary piece:
The second number demonstrates his expertise in tap:
Among their other responsibilities, each of the Billys rotated helping to promote the show by visiting local media outlets in association with the opening of the show in each new city where BETM played.  When the show visited Mitchell's home territory in southern Florida, of course it was natural for Mitchell to do interviews with his hometown press.  Here he and Rich Hebert ("Dad") are interviewed by West Palm Beach's WPTV TV/NewsChannel 5:
Mitchell is among the youngest and is definitely the smallest boy to play Billy in North America. But big talent comes in this small package and, after his debut, he thrilled audiences around the US and Canada with his portrayal of the boy who just wants to dance. He played the role for the 60.5th time in the Tour's final show in Sao Paulo, Brazil, the evening of August 18, 2013.  
Credit: Photo by Amy Boyle
____________________________
To learn more about Mitchell, visit:
Billy Elliot the Forum, Mitchell's Official Website
________________________________________________________
Tour Milestones
_______________________________________________________
In Houston, on March 12, 2011,  former president George H.W. Bush and Mrs. Bush viewed the show and visited with the cast backstage afterward.
Credit: Photo by Billy Elliot Broadway and National Tour Facebook Group
___________________________________________________________________________________________
During the week before the Tour opened for what would be the longest stay of any stop on the itinerary (8 weeks) in San Francisco, the five Billys spent the week promoting the show.
Credit:  Two Photos Above by SHN: Broadway in San Francisco
Here the Billys show off their singing voices with their excellent rendition of the National Anthem at a San Francisco Giants game on the Friday night before the show opened in SF:
Credit: Video by Major League Baseball
In July of 2012, Tour Billys  (Noah Parets and Ben Cook), ably assisted by Cameron Clifford and five of the Ballet Girls, sing the National Anthem at a Milwaukee Brewers/St. Louis Cardinals game at Miller Park Stadium in Milwaukee, Wisconsin.
Credit: Photo by the Marcus Performing Arts Center
_____________________________________________________________________
In other articles in the Billy Elliot the Musical section of this site, see profiles of the boys playing Billy in the UK in Meet the Billys — London: Billy Elliot the Musical.  There are also profiles of Billys of the recent past, who have left the show since September, 2009, in Meet the Billys — Profiles Archive: Billy Elliot the Musical.
Note:  If you have found these profiles enjoyable to read and/or useful, your comments (below) would be very appreciated.
___________________________________________________
For the complete US National Tour itinerary visit: