Home » Music
Apollo 3 "2010″
Apollo 3 "2010" - Album review
About a year ago, when I first found out about Apollo 3, I wrote a post about them in which I assured you that their music "will rock your world".  The article (which also came with a Russian translation thanks to their Russian fan club) was wildly successful and received more than 70 comments from their fans from all over the world.  Back then, I wrote that I am addicted to their music and things haven't changed much today. I prefer their music for bike stunts on the city streets or hanging out at the skate park (I am just a novice there - so keep to my bike mostly). I could not resist reviewing their first album, nor can I resist announcing and reviewing their newest album "2010" ( Thanks to the  Bill Milner fan who left me a comment on my first review letting me know that the second album is out there).
The boys seem quite confident in themselves as one can clearly note from the promo statement included in the release notes of their second album :
""No power on earth can stop us now! We are here to rock this world! With this "battle" of our energetic first hit "Diabolisch" from our second album titled "2010", we ring in the new decade. "Diabolik" is the title of the song. On 11.03.2010, in all cinemas,a film will be released calld  "TEUFELSKICKER" in which we will play the lead roles "
The album which hit the stores on Mar-12-2010 is on the Sony label (Sony Music was the label of their first album as well) includes 15 tracks with a total playing time of 52:21. As some of the songs included are the same as on their first album (9 of them) I will keep the scope of this mini review to the new six songs.
TRACK 1. "2010"  - one can clearly note that the boys voices changed during the year, but the re-verbs, the electronic sound at times, and the supporting backing vocal resulted in a real cool sound, even if not as good as in their second track of the album:
TRACK 2. "Chaos"  I loved the intro of the song and the way they sing "Chaos'' . Of course, the hit single of the album as they emphasize in the release notes is: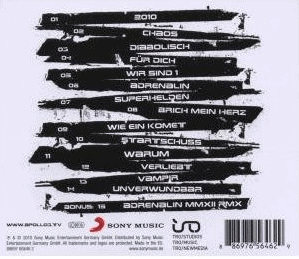 TRACK 3." Diabolisch" -  its really the most energetic song from the album and their voices blend wonderfully together. Can't wait it to do some stunts with my bike while listening to it.
Skipping to TRACK 13. "Vamoir " I consider this to be the ballad song of their new album. It starts with some nice bass and then the song  gets rhythmic - a rocky ballad as they say.
TRACK 14. "Unverwundbar" is quite melodic as well. I know that Apollo 3 is a rock band, but I really got to like their slower songs as well as the wild ones.  It gives you a different feel of the spirit of the band.
TRACK 15. "Adrenalin" - a remix from the song that was included in their first album. It really rocks. But to describe it, I would just remind you what I said about it one year ago -- my favorite song on the album. It's so full of energy that I can't believe that someone could listen to it calmly - perfect to accompany all kinds of extreme sports"
I
t's a pity that the majority of information about Apollo 3 is still only available in German. However, various fan clubs have been formed around the world and, thanks to them, the music of this incredible German band is spreading across the globe. An example of one such fan club is apollo3latinoamerica, who maintain a really cool page on MySpace. Same goes for their Spanish fan club who's Twitter account is a must follow for anyone who knows a bit of Spanish: http://twitter.com/apollo3spain. I won`t forget to mention the Apollo 3 Russian support and their My Space Fan club accessible at  or their Slovakian fan club which also utilizes MySpace http://www.myspace.com/apollo3slovakfanclub. As a final example of the international support they're getting, check out their Mexican fan club which has its own forum and other goodies.  I hope that Sony will recognize the need for more information about Apollo 3 and will invest more in promotional activities (including, but not limited to, translating their official site into English)
[amazon-product text="Get the new album of Apollo 3 from Amazon.com" type="text"]B00366HHLU[/amazon-product]