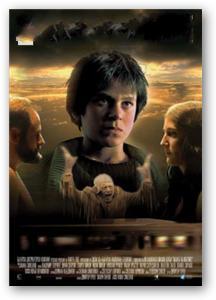 Warden of the Dead is one of the excellent coming of age drama that recently draw my attention .
A 13 years old unusually serious boy lives at the capital`s cemetery . He is known as the Kid and after the death of his parents undertooks their responsibilities – managing the daily routine at the cemetery – organize crews of gravediggers, taking care of the florists, service women…etc.He doesn`t go to school and learns about the real world from the world of the people who are not anymore amongst us. In one scene when a woman asked him why he does not goes to school he states that one shall make a living and adds :
" l learn from the dead people. In the cemetery everything is written – like in a textbook"
The kid had only few friends : the cemetery`s make up artist ( who dreams to draw nude body as Rubens) and an old man whose dream is to die – because the only meaning of his life – to see his biggest enemy dead is already fullfiled . The interaction of the boy with these two characters is wisely used for the his character development. The end result is a moving personality that reminds us of Oskar Matzerath in classic The Tin drum and Time of Gypsies`s Perhan.
Warden of the Dead is unusual and very original film . The story has several unexpected twists which ensure that even when you have seen half of the movie – you will still wonder what is going to happen …I guess one could find similarities to the masterpiece Sixth Sense , only the scenes in the Warden of the Dead seem to be more believable.
A DVD is soon to be released . Now the movie can be seen at various cinema festivals across the world.